Hanwei Swords
Hanwei Swords in assorted styles for sale. These are functional Swords made by Hanwei. We carry the Tactical Katana Series, Practical Katana Swords, Musashi Katanas and other popular sword collections. Competitive cutting XL Katana blades are also available. These wide blades will reward good technique with clean cuts and excellent durability.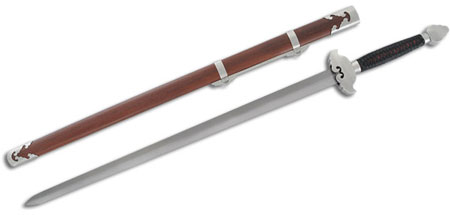 Hanwei Cutting Swords:
Jian Cutting Swords
Price: $349.99


Cutting Jian Swords optimize edge hardness and body toughness, ideal characteristics in a cutting sword. The elegantly simple steel fittings reinforce the swords mission, providing uncluttered lines while still remaining true to tradition. The black leather-over-cranberry rayskin grip ensures secure handling. A rosewood scabbard with fittings matching the hilt completes an attractive package. These swords feature cutting blade geometry. Hanwei Cutting Jian Swords have an overall length of 39" and a blade length of 29". The handle is 8". Weight is 2lb, 2 oz. (Individual specs may vary for each sword). Designed by Scott Rodell for Hanwei.
Out of Stock