Fencing Swords for Sale
Fencing Swords category includes Swept Hilt Rapiers, Stage Combat Swords and Main Gauche. Many of the fencing swords have high carbon steel blades with blunt tips. Also offered is a great selection of high-carbon flex-tempered steel blades, Practical stage combat rapiers with unsharpened high carbon steel blades with button tip and Renaissance style fencing swords.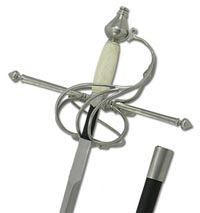 Fencing Swords:
Swept Hilt Rapier Fencing Swords Bone Handle
Price: $399.99



Bone Handled Swept Hilt Rapier Fencing Swords are 45 1/4" overall. This Swept Hilt Rapier features classical lines, with a high carbon steel flex tempered blade, a stainless steel hilt (for reduced maintenance) and a bone grip. The hilt is of the same size as the museum piece on which it is based, providing an authentic "feel" in the user's hand and weight and balance also match originals.

Renaissance-style Rapiers trace their origins to early 17th century Europe, where swordplay with the Rapier was considered an essential part of a gentleman's education and was often used in resolving gentlemanly disagreements. Blades generally originated in one of the blade making centers such as Toledo or Solingen, but many differences in styling and hilt materials resulted from the local manufacture of hilts all over Europe.

High-carbon steel blade
Genuine bone grip
Rigid scabbard included

Overall: 45 1/4"
Blade Length: 36 5/8"
Weight: 2lb 2oz
Point of Balance: 5"
Point of Harmonics: 30"
Width at Guard: .74"
Width at Tip: .33"
Thickness at Guard: .25"
Thickness at Tip: .16"

---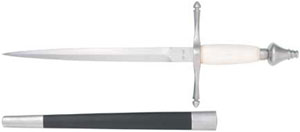 Fencing Swords:
Bone Handled Fencing Swords Main Gauche
Price:$219.99


Bone Handled Fencing Swords Main Gauche are 17" overall and have an 11 1/8" high carbon steel blade. Genuine bone handle with a polished steel basket guard and pommel. Black leather scabbard with nickel silver tip and throat. Companion piece to the Swept Hilt Rapier with Bone Handle above. Weight is 9 oz. Individual specifications may vary slightly per sword.

---

Fencing Swords:
Leather Fencing Sword Belt with Frog
Price: $39.99
Sword Belt with Universal Frog. This sword belt is made of black leather with an attached frog and metal skull and crossbones accents. This item will hold a sword, main gauche, dagger or dirk.
---