American Owned and Operated - 100% American Based Customer Service - Custom Laser Engraving - No Accounts Required
Pirate Swords for Sale
Pirate Swords for sale are available from several manufacturers and in a variety of styles. Decorative and display cutlasses are light and an ideal choice for awards and ceremonies. Cutlasses and cupped handle designs are popular for costumes, pirate themed and naval themed weddings and for stage. New pirate hats, boots and costumes are all on sale now. Buy all types of pirate swords, scimitars and cutlasses for display and reenactment.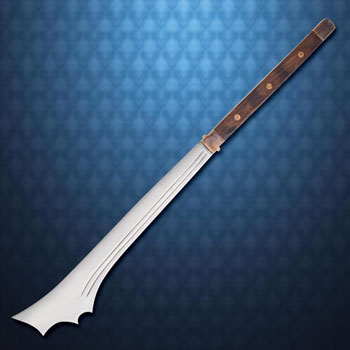 Pirate Swords:
Crusader Chopper Swords
Functional Blade
$149.99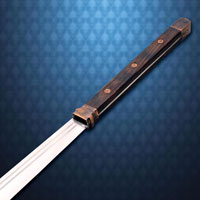 Crusader Chopper Swords for sale are 32 inches in all. The Crusader Chopper is designed after real swords that are featured in medieval manuscripts of the era, such as the unnamed sword of Plate 21 entitled The Rescue Lot. This contemporary version of the historical Crusader Chopper Sword features a functional 19 inch, single edge blade with a truly unique design. The full tang hand-forged high carbon steel blade is broad and flat measuring 3 1/2th inches wide. They have a two handed hardwood grip that has three antiqued copper rivets and antiqued copper fittings. The tang of the sword is prominent on the sides of the handle and contrasts against the handsome wood grain. These medieval swords weigh 3 pounds, 4 ounces and are manufactured in India. Buy the Crusader Chopper Swords for $149.99.
---
Sharpen This Sword - Add $20 - Price: $169.99