American Owned and Operated - 100% American Based Customer Service - Custom Laser Engraving - No Accounts Required
Sword Sets for Sale
Sword Sets for sale are available in a variety of themes. Choices of sword sets include ninja, roman and samurai katana sets. Most ninja and roman sets feature a scabbard that can hold all of the swords. The samurai sword sets typically include a katana and two other Japanese swords along with a tabletop display stand. Buy all kinds of popular sword sets and displays on sale now.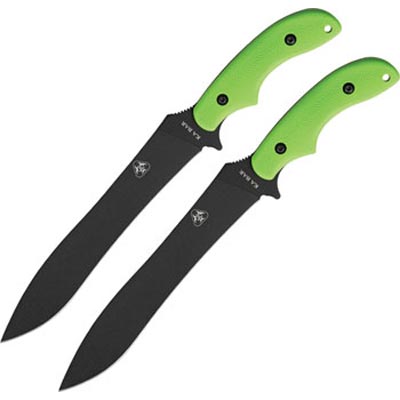 Swords Sets:
Zombie War Swords Set
Includes Two Sheaths
$219.99
KA-BAR
Zombie War Swords Set for sale contains two swords that are 15 inches in all. This full tang sword set is made by KA-BAR and features 9 ½ inch heavy SK5 stainless steel blades. The blades have a black finish. They have a biohazard green GFN-PA66 textured handle with a lanyard hole. This sword set includes a free additional set of black handles. Each sword includes a black nylon belt sheath that features a utility pouch and a zombie green lanyard with cord trim. Buy the Zombie War Swords Set for $219.99.