Get Dressed for Battle Armor
Get Dressed for Battle are perfect for display or Medieval reenactment. Fully functional Battle Bucklers, Medieval Battle Helmets and Armor are available.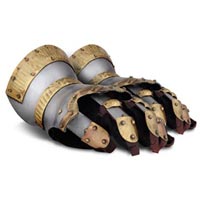 Churburg Gauntlets
Price: $149.99


These gauntlets are completely functional, they are highly detailed and embellished in brass. Crafted in 16 gauge plate, they are fitted with a sewn-in leather glove and are ready to wear. Weight: 4-1/2 lbs. (pair). Made by GDFB. Includes one pair.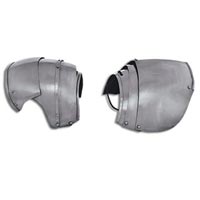 Milanese Shoulder Plates
Price: $149.99


The Pauldrons protect the shoulders for the re-enactor. With outstanding articulation, these pieces will complement any 15th. century-style harness. Crafted in 16 gauge steel, these are ready to wear. Size: Standard Weighs 6 lbs 7 ounces per pair.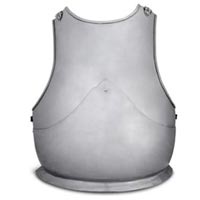 European Breastplate
Price: $149.99


European Breastplate, crafted in 16 gauge steel, breastplates are built to withstand contact re-enactment. Breastplate has open back style, is provided with adjustable leather straps for a secure fit. Length: 19" Weight 8 1/2 lbs. Does not include back plate.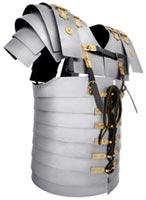 Roman Lorica Armor
Price: $249.99


Solidly constructed in 18 gauge steel and based on an original piece, this Lorica Segmentata will fit chest sizes up to 44" (over garments). Fittings are authentically styled and cast in brass. Total weight is 25 lbs. Specs will vary slightly from piece to piece.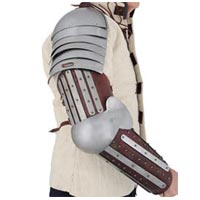 14th C. Arm Protection Plates
Price: $299.99


Knight Protection Plates have steel strips that are riveted to leather Vambraces and Rerebraces, while the Pauldrons and Coters are crafted in 16 gauge steel plate. Weight: 15lb 10oz. Covers one arm. Man not included.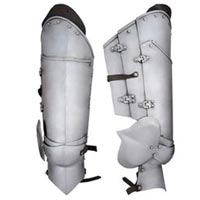 Milanese Leg Armor Set
Price: $449.99


The Cuisse and Poleyn protect the thigh and knee for the re-enactor. With three buckled attachment points and outstanding articulation. Crafted in 16 gauge steel, and ready to wear. Length: 23-1/4" Weight: 12 lbs. (pair).