Swords Direct is one of the largest secure websites to buy swords online.
Swords Direct is one of the largest online swords collections to buy real swords, display and battle ready Medieval Weaponry. All types of Medieval Swords are available including, Functional, Practical, Reenactment and Display.
---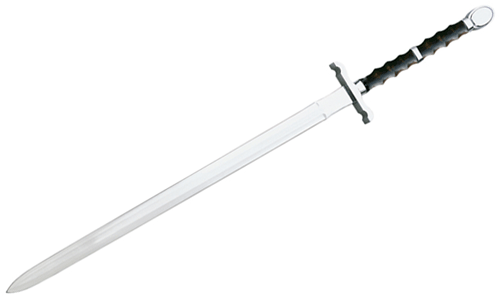 Medieval Swords:
Hand-and-a-Half Swords

$279.99

Item Number: MDL54020 - Sell Out Risk high
Handmade Sword
Overall Length: 38"
Blade Length: 26"
Handle Length: 10"
Cross Guard: 7".
Blade Type: Full Tang
Weight: 2.9 Pounds
Blade Material: Sharpened, Tempered Hand Hammer Forged High Carbon Steel
Handle Material: Custom Finger Grooved Macassar Ebony Wood
Sheath Included: Custom Genuine Brown Leather Scabbard
Hand-and-a-Half Swords or Bastard Swords: Called Hand and a Half Swords due to its lengthy handle, this style of sword saw great popularity in Europe north of the Alps in the second half of the 15th century. This 27 inch sword blade is quite versatile and capable of being wielded either one handed to allow the footman the use of the second hand for a shield or a second weapon, or two handed for tremendous power. The solid steel guard gives more than adequate hand protection while parrying swords and axe blows and the wheel pommel gives the whole sword a well balanced feel. A custom leather scabbard is included with this sword.
Sold Out
---
Next Functional Medieval Sword